Bind CNAME
Overview
After a domain name is successfully added, CDN provides the CNAME record. If you want to activate CDN acceleration service, the domain name should bind CNAME address to forward the request of accessing the accelerated domain name to the CDN code to realize acceleration effect. This document introduces you how to bind CNAME.
Notes
If you do not bind CNAME, you cannot use the cache service provided by CDN successfully.
Precondition
You have registered an account of Baidu AI Cloud. For specific operation, please see Registration of Baidu AI Cloud Account.
Method 1: CDN Management Console Binding
1.Log into the CDN Management Console and enter the "Content Delivery Network (CDN)" page.
2.Click Domain Name Management on the Navbar to the left.
3.Enter the "Domain Name Management Page"; click the target domain name in the action bar of domain name addresses, and then the target domain name information will appear on the right side of console page.

4.Click Management, and enter the page "Domain Name Details".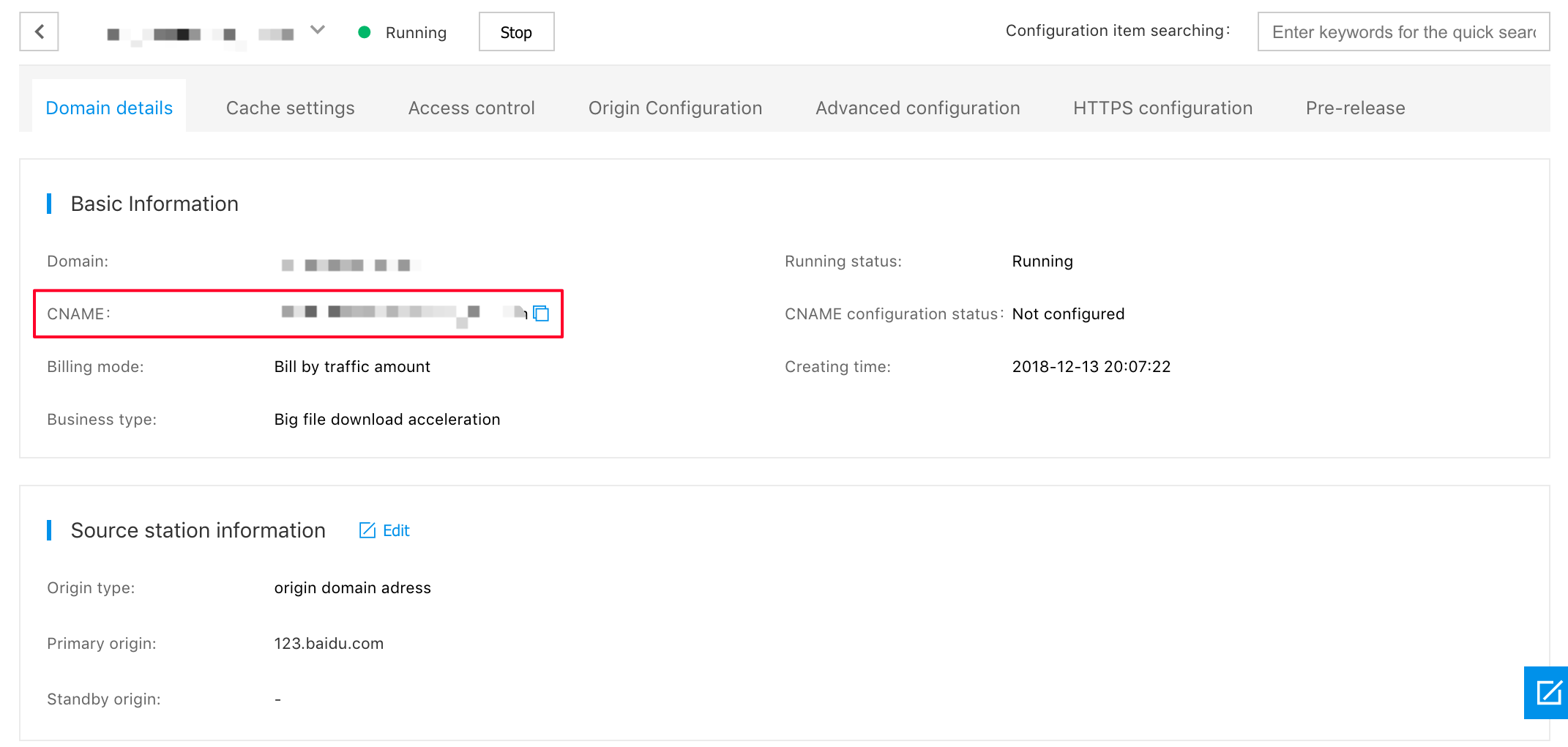 Resolve the accelerated domain name to the CNAME record provided by CDN. For more information, refer to Domain Name Resolution Domain name resolution。
Method 2: Bind the Domain Name Service Console
If the domain name is applied for in Baidu AI Cloud, you can directly log in Baidu AI Cloud console and click "Domain Name Service" in the left navigation bar.
Click the domain name that needs to bind CNAME, and view the detailed information of domain name;
When the configurations take effect, all the requests of the domain name are transferred to the Baidu AI Cloud CDN node.
Related File