Bandwidth Threshold Setup
Overview
Baidu AI Cloud CDN supports you to selectively set the bandwidth upper threshold for domain names and process all accesses based on your configurations. When the bandwidth generated by the domain name in the statistical period (5 minutes) exceeds the threshold, to protect the security of your domain name, it automatically processes subsequent access traffic.
Purpose of bandwidth threshold feature:
You can aim at the domain name to execute bandwidth upper limit restrictions:
After the domain name reaches the upper limit, it can have targeted traffic processing subsequently for different user scenarios, such as resisting super DDoS attacks, controlling CDN fees and preventing ordinary exceptions;
When the bandwidth exceeds the threshold, you will be notified in a timely manner, and you can take corresponding measures according to the perception.
Bandwidth Threshold Configuration
1.Log in CDN Management Console, select Domain Name Management from the Navbar on the left of the console.
2.On the Domain Name Management page, select the domain name that needs to set HTTP header, and click Management in the action bar to the far right, as shown in the figure below.

3.On the Domain Name Details page, click Advanced Configuration, as shown in the figure below.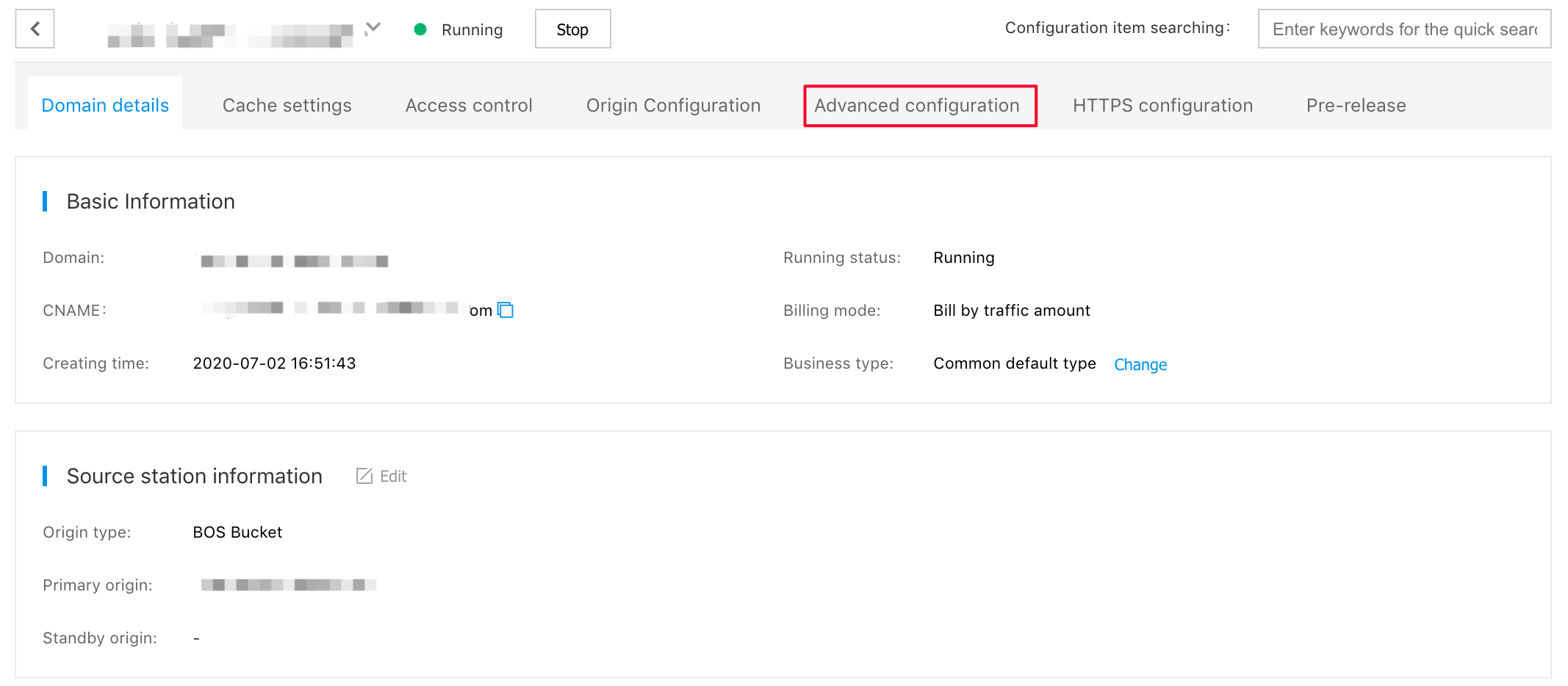 4.Select Bandwidth Capping Configuration on the Advanced Configuration tab.
5.Click Enable at Bandwidth Capping Configurations, set the bandwidth threshold and the way to handle the user requests after the threshold is exceeded.

Description of configuration item
Configuration items
Description
Bandwidth upper threshold
You can enable through or disable by to select whether to enable the bandwidth threshold setting or not.
Bandwidth threshold
The default bandwidth threshold is 10 Gbps.
Exceed the threshold
Support 2 kinds of settings for beyond threshold:
• Access 404 When the bandwidth exceeds the threshold value, the access request is returned to 404 page and the domain name itself remains unchanged status; it is suitable for resisting super strong DDoS attacks to protect your origin server.
• Access origin: When the bandwidth exceeds the specified threshold, all accesses under the domain name will be switched back to origin server, and CDN is disabled; it is designated to control CDN costs, without affecting your service.
Reminder
To set up relevant remind, you can choose short message, mails or private messages.
6.Click Save to complete the setup of bandwidth threshold. After setting, you can check the configuration status in the current page.