Application Scenarios
Website acceleration
CDN improves the speed of users in accessing website pages and pictures. The comprehensive monitoring mechanism ensures continuous and stable website service and effectively improves the speed to access static pages.
CDN does not require dynamic and static separation to achieve overall website acceleration.
Distribution of super-large files
The nationwide distribution of files at different granular is accelerated, which solves such problem as slow and unstable transfer of large files, such as online games, music, video and software, etc. Learn more about Storage Distribution Solutions.
Architecture diagram:

Video on demand
It supports the online on-demand acceleration service, such as on-demand acceleration of MP4 and FLV video files. The main business scenario is video-on-demand. It is recommended that you use it together with BOS to increase the back-to-origin speed and save the cost of the back-to-origin bandwidth.
Architecture diagram: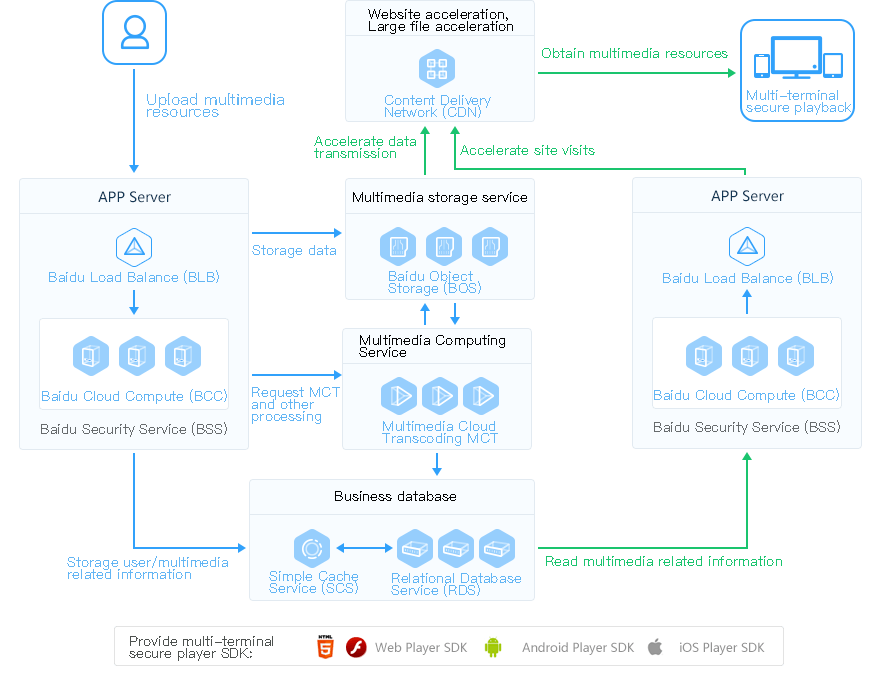 Video lives
Baidu AI Cloud Video-on-Demand is based on the large-scale real-time streaming media computing clusters and powerful audio and video signal processing algorithms, and by combining with in-depth development and optimization of CDN technical services, provides "Clear, smooth, low-latency, and high-concurrency" audio and video live broadcast services.
Architecture diagram: