Product Introduction
Product Overview
The overseas CDN (Content Delivery Network) delivers origin server content to the acceleration nodes all over the world, shortening the delay for users to view the content, improving the response speed and website availability for users to access the website and solving the problems of small network bandwidth, large user visits and uneven outlet distribution.

The CDN system can redirect user's request to the service node closest to the user in real time based on comprehensive information such as network traffic, connection, load status and distance to the user of each node and response time. It is designated to enable the users to get the required contents nearby, solve the problem of Internet network congestion and improve the response speed of users to access the website.
Principle of Acceleration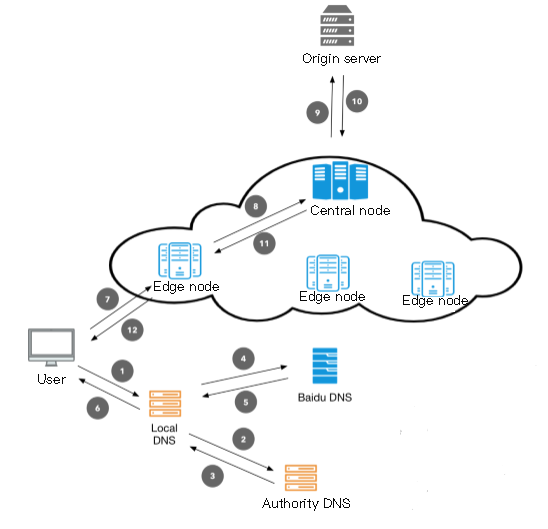 As shown in the figure above, the detailed steps for CDN acceleration are as follows:
1.Website user queries 'my.com' address;
2.Request authoritative DNS;
3.Return the configured CNAME: my.com.a.bdydns.com;
4.IP corresponding to request my.com.a.bdydns.com
5.Return the IP of the access point closest to the user based on intelligent scheduling;
6.LocalDNS returns the IP address of 'my.com' and caches it;
7.Send an HTTP/HTTPS request to the CDN node to access the content of my.com;
8.CDN forwards the request to the multi-tunnel central node through the acceleration link of Baidu AI Cloud;
9.The central node initiates forwarded requests to origin server;
10.The origin server returns a response to the central node;
11.Center node and edge node response the returned user and cache the response content.
Product Pricing
CDN is mainly billed by traffic usage or daily peak bandwidth. You can select the billing method when enabling the CDN service. Please refer to Billing Mode Instructions for more information about pricing.
Product Feature
The overseas CDN console provides you with convenient and quick CDN operation experience. In the console, you can log into CDN, enable and access CDN, configure CDN parameters, view statistical analysis and monitor.
Related Products
Object Storage BOS: Provide stable, safe, high-efficient and high-extensive storage service.
Live Streaming Service (LSS): Provide one-stop intelligent LVB cloud service with stable, smooth, low latency and highly concurrent support.
Video on Demand (VOD): AV on-demand VOD, as the PaaS service platform, provides storage, management and paly services of AV files for the developers.
Overseas CDN: The overseas CDN delivers origin server content to the acceleration nodes all over the world and uses the global scheduling system to enable users to get the required content at nearby nodes.